5 Best CMS Platforms to Start a Website in 2021
A CMS is a system that assists you in creating a website without knowing code. CMS stands for Content Management System. Tim Berners-Lee created the server software in late 1990.
Do not worry about managing your website if you use CMS. CMS handles your entire website. With the CMS tool's help, a user can organize, change, and operate a website's contents.
The CMS manages every essential thing of your site for the progress of your business. Using CMS, it is not compulsory to update your site by web programming. Without programming, you can update your dynamic pages all by yourself indeed.
About Costing
The cost of a CMS could be expensive. Some are 100% free, and they cost only hosting. Some CMS needs to have a monthly fee.
Wix is an exclusive website builder. It costs $14 per month. CMS for Industrial management is more expensive.
CMS Hub Professional costs $300 per month. Content Management System can cost a lot sometimes, that depends on your preferences.
Benefits that CMS provides to users
Content Management System ( CMS ) makes your website very simple to run. It saves different web contents in one place with costing you less money.
Also, CMS Helps to design dynamic web pages with plugins and makes easy updates. It gives your website security and saves you money and time.
Multi-user assistance
A CMS is perfect for creating a vast website with many features and services. Opening accounts with assigning roles ( admin, editor, etc.) for different users is easy with CMS.
It is great to have a user account feature to view updated pages with blogs/articles on your website.
Helps to work effectively
You do not need to build pages for your website from scratch because CMS does that within half time. CMS will help you to find the areas which need improvements. After that, you can create different content, posts, blogs to generate more leads.
Test and Preview
You can preview your website with a simple click by using a CMS. You will also be able to see changes when you customize it.
Operating it is more pleasant rather than an HTML – only website.
Coming up forward with SEO Ranking
A CMS always helps to develop an SEO ranking that brings traffic to your site. You can set meta description, keywords, call to action in a CMS.
It could help your website because over 78% of B2B starts services searching from the internet.
Management of Website
A CMS is a good choice if you build a website with many pages. The CMS will make things very easy for you to operate.
Besides, you can edit pages, add something new, publish new pages, and so on.
Personalization
Modifying designs are more complicated using HTML because you have to adjust the pages one by one, and you have to make changes with CSS too.
So using a CMS, making adjustments to a static page is always easier. If you want to change a picture or add some text, its UI will make you satisfied.
Helping Companies to be Successful
CMSs are helpful to B2B companies. Most importantly, Business Owners find it easy to create a website for their businesses with the help of CMS. On the other hand, CMS fulfils all your demands so that you can concentrate more on your business than staring at a screen for so long.
Choosing the best CMS for your website:
Are you confused about choosing a suitable CMS for your business? Here in this writing, you will get to know about some CMSs that will help you make a practical decision.
There are two primary kinds of CMS platforms. They give you profits and support on a budget.
Open-source CMS
You can adjust and customize open-source CMS as your requirements. A community of developers has taken responsibility for the maintenance of this software. Everyone can have their source code and make changes as only a company does not own it.
Proprietary CMS
A single company controls proprietary CMS. If your business has a specific need, you can use proprietary CMS. They come with a type of service as development, design, education, and support.
You will need a license for having a proprietary CMS. Proprietary CMS is the legal property of a group or organization, or individual who created it.
You can choose CMS for your company that should base on your company's needs and priorities. However, we suggest you some features that can help you to find a suitable CMS for your website. Have a look at the most valuable features of CMSs :
Usually, CMS offers many kinds of website designs. So that you can have many options and you can personalize your designs as per your necessities.
For running a website, you will need to have multiple pages, so you need some tools also which can help you to arrange your pages according to your preferences.
Try to know about the details of your CMS that it is SEO friendly or not. Also, SEO will bring your visitors to your website who will be genuinely interested in the products that you provide. So taking care of this matter is a vital thing.
Only a CMS cannot fulfil your company's every need. You will need to add some features to your CMS to build your website as you want.
To add new features that will help your CMS work according to your choices, you can install some software that will work as addons and add some extensions from your browser.
You have to keep in mind that how simply your admins and editors will be able to perform operations in your CMS. Is it easy enough to operate or not? Because everyone who works within this platform wants to have a user-friendly interface so that the maintenance becomes more effortless.
5 Best CMS For Your Website
We have done broad research about CMSs and found out some of them, which can help grow your business at an increasing rate. You can choose from our recommendations:
1. WordPress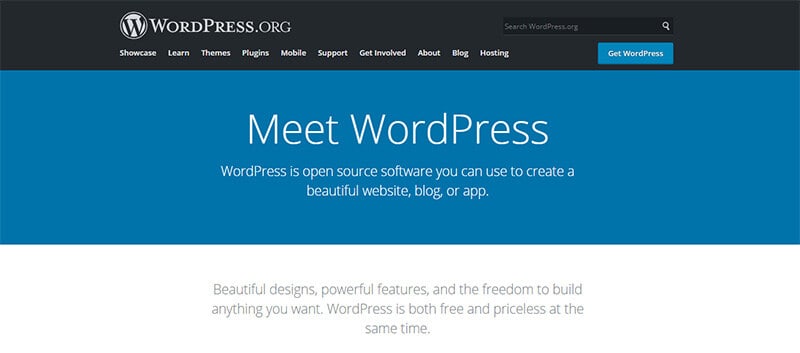 WordPress is a content management system ( CMS ) that helps build your website paring with an MYSQL or MariaDB database. Yet WordPress is open-source software that makes to create a website easily as you think.
On May 27, 2003, American developer Matt Mullenweg and English developer Mike Little released WordPress. They wrote WordPress in PHP language. It is not necessary to have knowledge about PHP language to operate or maintain a WordPress website.
Every WordPress theme must include the files that are style. css and index. php. WordPress is simple to customize without any coding, and of course, you can operate it on mobile very efficiently. It blends with many software tools and plugins.
Some key features of WordPress are below:
It is adjustable and flexible to change preferences.
It is adjustable and flexible to change preferences.
Themes Offer Multiple Options.
Sites using WordPress CMS often ranks high.
WordPress Sites Are Mobile Responsive.
It has truly a vast helping community that gives support to its users.
You can publish content using WordPress's platform.
WordPress provides a great editor that helps your content to bring in shape with security.
It is customizable because it has lots of plugins and addons.
2. Drupal
Drupal is a CMS software. It is one of the most flexible software in this digital era. Many web applications we use today is an excellent contribution of Drupal with high security. Developers wrote this software with PHP language.
You can build Content Management Software (CMS) using Drupal because it is a Content Management Framework (CMF). The features you can add to your CMS by Drupal is SEO, Security, Backup, Performance etc.
Dries Buytaert created drupal as a message board, but in 2001, Drupal became an open-source project.
There are some key features of Drupal:
Using Drupal, you can change or edit contents without any hesitation because its personalization is really smooth.
It is very flexible to operate with an amazing user experience.
You can drag and drop images or texts using blocks to rearrange the looks/views of your pages cause it has a built-in block system.
It has a WYSIWYG editor, which previews user how the page will look after publishing.
It has a built-in configuration management system in its updated version.
Drupal 8.1 has an automated testing feature using JavaScript (JS).
3. Joomla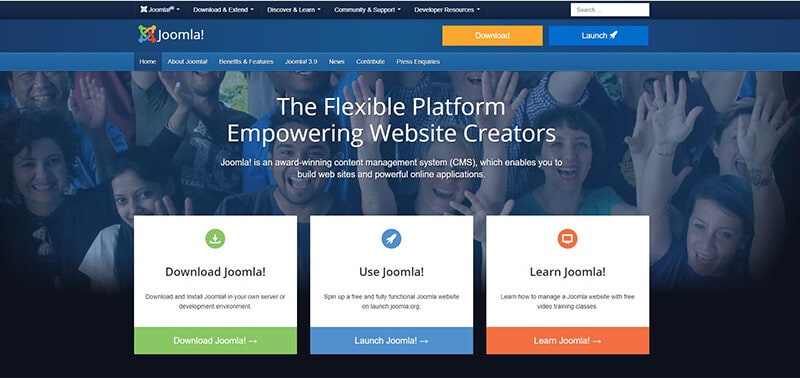 Joomla is a secured open-source CMS by which you can publish web contents such as forums, photos, blogs etc. Developers wrote Joomla in PHP language, and for storing data, it uses the MYSQL database.
It contains css, HTML and additional language files. In fact, Joomla has more than 8000 extensions, which would help you create any web project according to your choices.
Some valuable features of Joomla are below:
Joomla is an open-source Multilingual CMS platform that offers more than 70 languages to its users.
Besides editing, publishing is comparatively easy in Joomla.
Users can see the most popular search items by using it.
It has a Banner Manager feature. You can make a banner according to the client's choices by using it as well.
You can provide site links to users very quickly using the "web link manager" feature.
Users can have personal configuration options here.
Editing from the frontend is possible in Joomla using the "edit" option.
4. TYPO3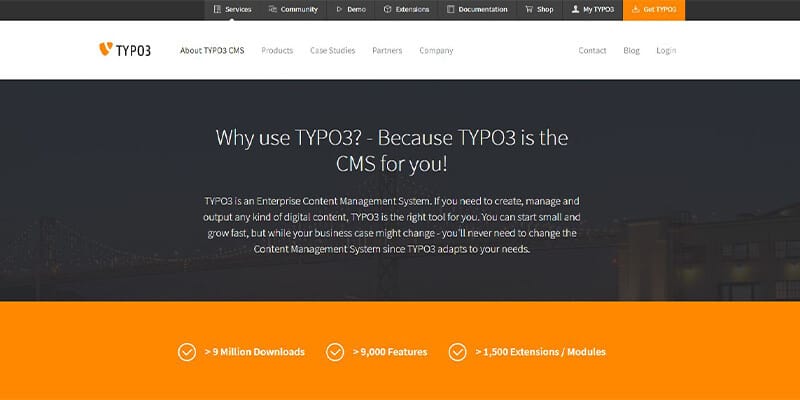 TYPO3 is an Enterprise Content Management System which is a free CMS software written with PHP language. This software is translatable in more than 50 languages. It has similarity with CMSs like WordPress & Drupal.
However, people use TYPO3 for managing and modifying the contents of web platforms. More than 300 contributors develop it on a regular basis, and their leaders are Benjamin Mack and Mathias Schreiber. It is very adaptable with many functions.
Its features are customizable with advanced frontend editing options. You can operate and maintain it without having coding knowledge.
Some key features of TYPO3 are:
It has a large and active global community.
TYPO3 also permits to setup several permission levels for backend users.
It is easily controllable and customizable.
TYPO3 has a responsive frontend and backend.
Thus it has workspaces (with frontend simulation) in which you can test contents and layouts.
TYPO3 has more than 50 localization available in it.
It has an Extention Manager feature and more than 6000+ extensions.
You can install it once and manage so multiple sites.
Different editors can contribute here for the updates and betterment of TYPO3.
5. ImpressPages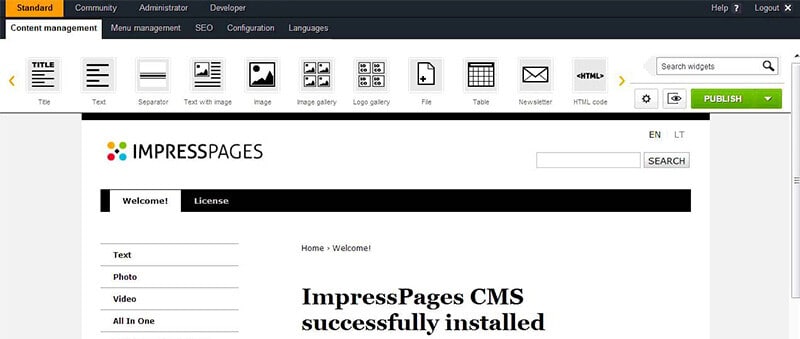 ImpressPages is an open-source Content Management System. Three Lithuanian entrepreneurs developed it. Even people do not need to have much technical knowledge for maintaining this system.
Its popular features are Backup and Restore, Clone etc. Similarly, it speeds up the process of editing, updating and building your desired software.
Here are some key features of ImpressPage:
Developers edited its pages in the way of WYSIWYG (What You See Is What You Get)
It has an impressive drag and drop interface.
You can create Multilingual websites without any plugin by using it.
Moreover, it includes widgets like Image, text, Gallery, Video, Map, File, Divider etc.
ImpressPages can filter HTML and CSS contents from the trash.
Above all, this CMS provides paid and non-paid themes to users, and they can edit or customize them using HTML and PHP codings.
SUMMARY
Finally, I can say that CMS gives you the opportunity of creating and managing web contents. Most of the CMSs have many content management features like templates and themes, WYSIWYG editor, Calender, Mobile Optimization capabilities etc.
You will have all the benefits of the features, but at first, decide which kind of website do you want for your business/company. Hence, you can think and select a CMS among these CMSs we recommended for you.
If you're going to operate independently, then probably WordPress, Joomla, Drupal, ImpressPages and TYPO3 will be the best choice for you.
I hope you enjoyed reading this blog. Please give us an honest review and inspire us to write more for you. Stay happy.